« Garage Fire on El Jardin Street | Home | LBFD Swiftwater Rescue California Task Force 12 Deployment to Louisana »
By frhayes | September 3, 2008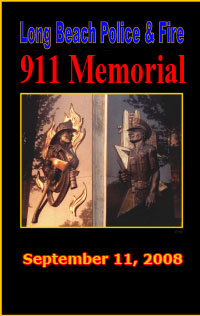 September 11, 2008 marks the 7th anniversary of the tragic event that unfolded in New York City in 2001. To recognize this date, the Long Beach Police and Fire Departments will once again host the annual 9/11 Memorial Ceremony adjacent to City Hall.
The event will begin promptly at 6:30 A.M., on September 11th. It is advisable to arrive early. The event will feature a moment of silence, then the Fire Chief, Mayor and Police Chief will place wreaths at the base of the memorial.  Following the wreath placement, we will provide the traditional "Last Alarm" bell ceremony. Once this is complete, we will have a bagpiper on site to play Amazing Grace to conclude the ceremony. Candles for the vigil will be provided on site for all in attendance. There will be no speeches.
The event will be held at the Police and Fire Memorial adjacent to City Hall, on Chestnut Street, south of Broadway. Command Staff members will wear dress uniforms all other members shall wear service uniforms, civilians should dress appropriately for the occasion.

Topics: Events | No Comments »