« Long Beach Fire Department Lifeguard Division wins the inaugural Heroes Regatta | Home | Fireworks are illegal in Long Beach »
By Will Nash | July 2, 2014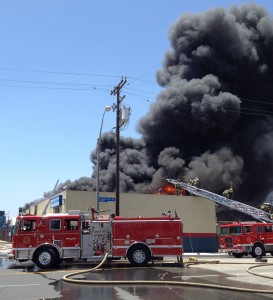 On Tuesday, July 1st at 13:00, the Long Beach Fire Department responded to 1700 W. Anaheim for a reported structure fire. Upon arrival, units found an industrial building used for the manufacturing of electric-powered merchant signs. Due to the size of the building, contents, and rapid spread of fire, a 2nd Alarm was called, followed by a 3rd Alarm, each brining more necessary resources and personnel. Building occupants evacuated the structure and reported no injuries. Because of the building contents and extent of fire, the weakened roof burned through leading to a partial collapse. This caused LBFD personnel to go "defensive" with concerns for additional structural integrity. The main body of fire was knocked down prior to 14:00. LBFD units remained on scene for next several hours attending to smoldering "hot spots" throughout the building. No other injuries were reported. The cause is currently under investigation.
Photo Credit: Unknown Bystander

Topics: Public Safety | Comments Off on 3rd Alarm Fire in Long Beach
Comments are closed.