« 3rd Alarm Fire in Long Beach | Home | Long Beach Junior Lifeguards STUD IRONMAN Competition, Tuesday, July 29th »
By Will Nash | July 2, 2014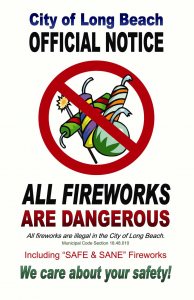 Fireworks are illegal in Long Beach, and can be dangerous.  Even the so-called Safe and Sane fireworks and sparklers can be harmful.  These "store bought" ground-based fireworks can often results in serious burns, hearing loss and other injuries.
 Fireworks are a traditional part of America's Fourth of July celebration, yet every year people take needless risks when they celebrate the Fourth of July.
 Here's a sobering statistical look at the dangers of fireworks:
 On July 4th (in a typical year) fireworks account for 2 out of 5 of all reported fires, more than any other cause of fire
In 2011, fireworks caused an estimated 17,800 reported fires, including:
               o       1,200 structure fires
               o       400 vehicle fires
$32 million in direct property damage
 In 2012, emergency rooms saw an estimated 8,700 people for fireworks-related injuries
               o       Almost three out of five (57%) of the injuries were fireworks burns 
               o       30% of people injured by fireworks were under 15 years old
               o       Males accounted for three-quarters (74%) of the injuries
               o       Young people (15-24)  had the highest number of injuries
               o       Kids under 10 had the 2nd highest number of injuries
               o       Sparklers and fountains accounted for 25% of emergency room injuries
For more information on fireworks safety, please visit www.nfpa.org and search for "fireworks"
The National Council on Fireworks Safety does report that for the past several years, there has been a decreasing trend in the fireworks injury rates.  A major reason has been the increasing popularity of professional fireworks shows, which residents are encouraged to attend.
Every year, about 50 professional shows are held throughout LA and Orange County, including shows in and around Long Beach.
Leave fireworks shows to the professionals, and have a SAFE 4th of July

Topics: Public Safety | Comments Off on Fireworks are illegal in Long Beach
Comments are closed.