About The LBFD
Since 1897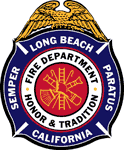 MISSION
"The mission of the Long Beach Fire Department is to protect lives, property and the environment, improving the quality of life and safety of the community."
CORE SERVICES
Maintain citywide presence to effectively respond to fire, medical, beach, and waterway emergencies. Provide effective prevention, education, and preparedness services.
Coordinate the City's disaster management and Homeland Security efforts.
OFFICE OF THE FIRE CHIEF
The Executive Branch of the Long Beach Fire Department provides leadership and coordinates the activities of the Fire Prevention, Operations, Support Services, Disaster Management, and Administration Bureaus.
FIRE PREVENTION
Deputy Chief & Fire Marshal
The Bureau of Fire Prevention is responsible to prevent fires from starting, to provide safety education in case of fire, to investigate and identify suspicious fires and environmental crimes through proactive enforcement of Fire, Life Safety, and Environmental Code requirements in the City of Long Beach, and over sees community services divisions, including public information and CERT.
FIRE OPERATIONS
Deputy Chief
The Bureau of Fire Operations is responsible to protect lives and property by effectively
 responding to fire, medical, beach, and waterway emergencies.  
SUPPORT SERVICES
Deputy Chief
The Bureau of Support Services is responsible for directing and providing support services
 via the Department's training, communications/dispatch, disaster management; providing CE and quality improvement for all firefighters, lifeguards, ambulance operators and dispatchers, as well as, providing continuing education and quality improvement for EMS employees.
ADMINISTRATION
Civilian Manager
The Bureau of Administration provides general administrative support including budget
preparation and management, payroll, personnel, and purchasing.  
DISASTER MANAGEMENT
Civilian Manager
The Bureau of Disaster Management is responsible for the readiness of the City's Emergency Operations Center, Citywide emergency preparedness planning and training, and the management of the Homeland Security Grants. 
 For more information about The LBFD today visit longbeach.gov/fire or lbfdtraining.com. For some interesting history go to lbfdmuseum.org.