By Will Nash | April 11, 2013
Two separate apartment fires occurred in the Belmont Heights area on Tuesday evening, April 9th.
At 9:13PM, Fire Department units responded to an apartment fire on the 1600 block of East 3rd St.. Units arriving on-scene found fire and heavy smoke coming from an upstairs apartment and were told that the upstairs tenant was trapped inside. Fire personnel made entry and began a search while extinguishing the fire. Fortunately, the tenant broke a window and exited the second level, falling to the alley below, suffering some cuts and abrasions. She was treated and transported to LB Community Hospital by Paramedics. Fire was confined to the initial apartment, and was started by food left on the stove.
There was also an apartment fire across the street from St Anthony's Church.  At 9:23PM a second apartment fire was reported on the 600 block of Olive Ave. Fire units arrived on-scene and found fire and heavy smoke coming from a ground level apartment. They accessed the apartment and began extinguishment and a search for victims. The apartment tenant was seen in the area prior to the fire but was not in the apartment during the fire. The fire was extinguished and contained to the initial apartment. This fire is currently under investigation by the LBFD Investigations Unit. No one was injured at this incident.

Topics: Public Safety | Comments Off
By Will Nash | March 11, 2013
Today (3/11/13) at 16:50, Long Beach Fire Units were call to the 6400 block of Spring Street for a two car injury traffic accident.
An east bound Dodge Caravan and a west bound Ford Expedition collided. The Dodge carried an elderly couple and came to rest on its side. The upright Ford contained a single female driver in her 30′s. The female driver was transported to Los Alamitos Hospital with back pain and other minor injuries. The couple in the Dodge required advanced extrication due to the position of the vehicle, extent of the damage, and the nature of their injuries. Both were transported to St. Mary's Trauma Center.

Topics: Public Safety | Comments Off
By Will Nash | March 8, 2013
On Saturday, March 16 the Long Beach Fire Department, Marine Safety Division will host tryouts for Non-Career Ocean Lifeguards. Beach goers from our local communities and around the world visit the Long Beach shoreline every year. The summer months are particularly busy, and the Long Beach Fire Department, Marine Safety Division keeps a keen eye on all those in our waterways.
Non-Career Ocean Lifeguards are a key component of the Long Beach Fire Department's public safety service during the summer. Lifeguards are responsible for watching the water along seven miles of beaches and 22 square miles of waterways. This includes the oceanfront, waterfront along Bayshore Drive, Marina Park, Mother's Beach, and Colorado Lagoon.
Those interested in becoming Non-Career Ocean Lifeguards should be physically fit, motivated by public service, and prepared to compete in a 1,000 yard open water ocean swim, and run-swim-run. Qualifying individuals will be offered an opportunity to complete non-career lifeguard training, and successful graduates become eligible to enter the Long Beach Lifeguard workforce.
Tryouts will be held at Long Beach Lifeguard Headquarters at 2100 E. Ocean Boulevard on Saturday, March 16. Registration begins promptly at 8:00AM. Participants should bring a swim suit, towel, social security card and photo identification. For additional information, please call Lifeguard Headquarters at 562.570.1360.

Topics: Public Safety | Comments Off
By jiarviz | February 22, 2013
In the past week the Long Beach Fire Department's Arson Unit has solved and made arrests regarding the following arson cases:
On Friday, February 15, 2013 a female suspect was arrested at 820 Hoffman in connection with a fire the previous day at 1077 Orange Avenue. The suspect was charged with arson of an inhabited structure and her probation was violated.
On Saturday, February 16, 2013, a male suspect was arrested in connection of burning his vehicle at 17th and Daisy in August 2012.  The suspect was charged with arson and insurance fraud.
On Tuesday, February 19, 2013 a male subject was arrested for false ID to a police officer and illegally burning without a permit.  The male decided he needed to set a fire in the backyard of his apartment.  He was initially contacted by Engine 11 and understood he was wrong to burn his belongings in public.  Over four hours later they returned and the subject's attitude had changed and he was arrested.

Topics: Incidents, News | Comments Off
By jiarviz | February 2, 2013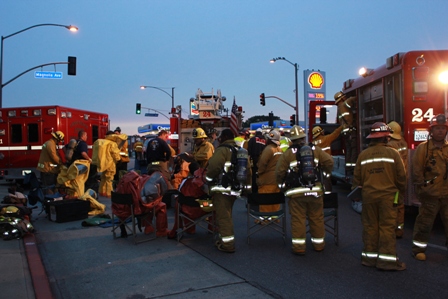 The Long Beach Fire Department responded to a hazardous materials incident just before 5 a.m. this morning at a cold storage facility in the 600 block of W. Anaheim Street.  Upon arrival firefighters encountered a strong odor of ammonia.  At that time a perimeter was established and the department's Hazardous Materials Team was requested to respond to the scene.  A four block perimeter was established; however, no evacuations were necessary.
The Hazardous Materials Team made entry into the facility and shut off the main valves to the ammonia system.  A leak was discovered coming from a diffuser tank, the team plugged the leak and contained the 100-200 gallons of liquid that had leaked from the tank.  The Hazardous Materials Team also monitored the air with special equipment to ensure public safety.  The company is working with various City departments to mitigate the clean up.

Topics: Incidents | Comments Off
« Previous Entries