By Admin | November 17, 2015

Topics: Public Safety, Video | 1 Comment »
By Will Nash | July 25, 2014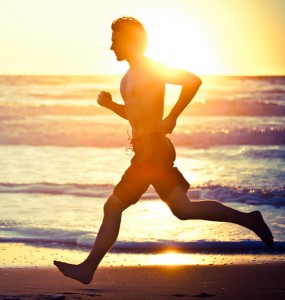 On Tuesday, July 29th, the Long Beach Junior Lifeguard Program will have their annual Stud Ironman event.  The competition is free and open to all, so family, friends, and swim teams are welcomed to participate. 
Check in for participants begin at 8:00am, at the Lifeguard Tower south of 1st Place, adjacent to the Villa Rivera Building.  The competition begins at 9:00am.  The race will start at 1st Place and end at 72nd Place.  The competition is a run / swim / run event from rock to rock jetties.  It consists of running eastbound along the beach for a total of 4 miles, while stopping to swim out to 15 different buoys along the way including the Belmont Pier, for a total 2 mile swim.  There is a 2-hour goal to complete this challenge.  All Junior Guards that complete the event within 2 hours will receive a coveted "STUD IRONMAN" t-shirt.
Accomplishment of this feat is a milestone for these kids, as they have been training in the Junior Lifeguard Program for the past five weeks, leading up to this event.  All are welcomed to come out and cheer them on. 
The "In & Out Burgers" Food Truck will be selling food at the finish line, after the event.
 Please contact Lifeguard Captain Scott Dixon with questions.  562-685-3102

Topics: Public Safety | Comments Off on Long Beach Junior Lifeguards STUD IRONMAN Competition, Tuesday, July 29th
By Will Nash | July 2, 2014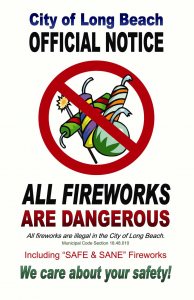 Fireworks are illegal in Long Beach, and can be dangerous.  Even the so-called Safe and Sane fireworks and sparklers can be harmful.  These "store bought" ground-based fireworks can often results in serious burns, hearing loss and other injuries.
 Fireworks are a traditional part of America's Fourth of July celebration, yet every year people take needless risks when they celebrate the Fourth of July.
 Here's a sobering statistical look at the dangers of fireworks:
 On July 4th (in a typical year) fireworks account for 2 out of 5 of all reported fires, more than any other cause of fire
In 2011, fireworks caused an estimated 17,800 reported fires, including:
               o       1,200 structure fires
               o       400 vehicle fires
$32 million in direct property damage
 In 2012, emergency rooms saw an estimated 8,700 people for fireworks-related injuries
               o       Almost three out of five (57%) of the injuries were fireworks burns 
               o       30% of people injured by fireworks were under 15 years old
               o       Males accounted for three-quarters (74%) of the injuries
               o       Young people (15-24)  had the highest number of injuries
               o       Kids under 10 had the 2nd highest number of injuries
               o       Sparklers and fountains accounted for 25% of emergency room injuries
For more information on fireworks safety, please visit www.nfpa.org and search for "fireworks"
The National Council on Fireworks Safety does report that for the past several years, there has been a decreasing trend in the fireworks injury rates.  A major reason has been the increasing popularity of professional fireworks shows, which residents are encouraged to attend.
Every year, about 50 professional shows are held throughout LA and Orange County, including shows in and around Long Beach.
Leave fireworks shows to the professionals, and have a SAFE 4th of July

Topics: Public Safety | Comments Off on Fireworks are illegal in Long Beach
By Will Nash | July 2, 2014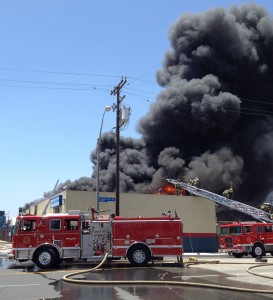 On Tuesday, July 1st at 13:00, the Long Beach Fire Department responded to 1700 W. Anaheim for a reported structure fire. Upon arrival, units found an industrial building used for the manufacturing of electric-powered merchant signs. Due to the size of the building, contents, and rapid spread of fire, a 2nd Alarm was called, followed by a 3rd Alarm, each brining more necessary resources and personnel. Building occupants evacuated the structure and reported no injuries. Because of the building contents and extent of fire, the weakened roof burned through leading to a partial collapse. This caused LBFD personnel to go "defensive" with concerns for additional structural integrity. The main body of fire was knocked down prior to 14:00. LBFD units remained on scene for next several hours attending to smoldering "hot spots" throughout the building. No other injuries were reported. The cause is currently under investigation.
Photo Credit: Unknown Bystander

Topics: Public Safety | Comments Off on 3rd Alarm Fire in Long Beach
By Will Nash | May 12, 2014
Six members of the City of Long Beach Fire Department Lifeguard Division won the inaugural Heroes Regatta Saturday in this event hosted by Long Beach Yacht Club as a tribute to the men and women of our local police and fire departments.
More than 50 law enforcement officers and firefighters sailed on eight of LBYC's Catalina 37 racing sailboats alongside skilled coaches on a sunny day that saw breezes of 12-16 knots.
The Long Beach Police Department was represented by the LBPD Command, Detective, Vice and SWAT divisions. The Long Beach Fire Department was represented by LBFD Command (including Fire Chief Mike Duree), Firefighter and Lifeguard divisions.
At the end of the six races the LB Lifeguard team and the LBPD Detective team were tied for first place.
The win was given to the Lifeguards on a tiebreaker.
Members of the Lifeguard team were Scott Mitchell, Bill Selditz, Tony Gentile, Scott Crail, Barry Wood and Scott Dixon.
http://www.sail-world.com/USA/2014-Heroes-Regatta—Long-Beach-Fire-Dept.-Lifeguards-win/122035
(submitted by Rick Roberts)

Topics: Public Safety | 1 Comment »
« Previous Entries
Next Entries »