« Confined Space Rescue | Home | 56th Way Apartment Fire »
By Will Nash | November 13, 2013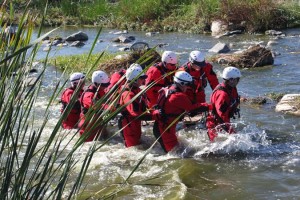 On Wednesday, November 13th, the Long Beach Fire Department Marine Safety Division conducted "Swift Water" Training Drills in various Long Beach Waterways. The purpose of these annual drills are to recertify Swift Water Team Members on safety equipment, rescue procedures, and team coordination. Although the weather is still warm and riverbed water levels are relatively low, the rainy season will be here soon. As we prepare for a wet winter, LBFD personnel need to be aware of swift water hazards and considerations. Each year, there are a number of "river rescues" resulting from people involved in vehicle accidents, or those playing or living in the riverbed area. The LBFD Swift Water Team consists of 28 members and is a certified Type 3 Rescue Task Force. The Team has been deployed nationally to Texas for Hurricane Ike and Louisiana for Hurricane Gustav.
Topics: Public Safety | Comments Off on LBFD Marine Safety Division conducts "Swift Water" Training Drills
Comments are closed.