By jiarviz | December 13, 2012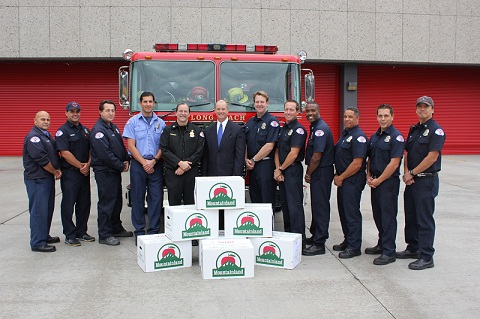 On December 12, 2012 Chairman of the Board and CEO Dan Walker from Farmers and Merchants Bank personally presented members of the Long Beach Fire Department one apple for each member of the Department.  This tradition began back in 1938 and has been presented every year around the Holidays.  Deputy Chief Mike Sarjeant accepted the apples on behalf of Fire Chief Mike DuRee.
Topics: Events | 44 Comments »
By jiarviz | December 10, 2012
The Long Beach Fire Department would like to remind members of the community about Christmas tree safety.  Please review the following safety tips.  
Selecting a fresh tree:
Needles on fresh trees should be green and hard to pull back from the branches, and needles should not break if the tree has been freshly cut. The trunk should be sticky to the touch. Old trees can be identified by bouncing the tree trunk on the ground. If many needles fall off, the tree has been cut too long, has probably dried out, and is a fire hazard.
Caring for your tree:
Do not place your tree close to a heat source, including a fireplace or heat vent. The heat will dry out a tree. Be careful not to drop or flick cigarette ashes near a tree. Do not put your live tree up too early or leave it up longer than 2 weeks. Keep the tree stand filled with water at all times. Trees that have been watered properly, and maintain pliable, green needles are harder to ignite.
Tree lighting:
Inspect your holiday lights each year for frayed wires, wear and tear, etc. Use only lights that have been listed by an approved testing laboratory. On your tree, only use lights designated for inside tree use. Do not use excessive lighting - usually 3 strands is the maximum amount that can be linked – consult the lights packaging for details. Never leave lights on unattended. 
Use only non-flammable decorations
Artificial trees:
If you are using a metallic or artificial tree, make sure it is flame retardant.
Candles can be dangerous:
Never use real candles on a Christmas tree.
Disposing of your tree:
Never put tree branches or needles in a fireplace or wood-burning stove. When the tree becomes dry, discard it promptly. The best way to dispose of a tree is by taking it to a recycling center or having it hauled away by a community pick-up serve. 
Smoke and Carbon Monoxide Detectors:
Even with the best intentions, accidents can happen. Make certain you have smoke detectors and carbon monoxide detectors installed in your dwelling and test them regularly.  This is a good time of the year to replace batteries in all smoke detectors and carbon monoxide detectors.  It only takes seconds for a Christmas tree to engulf a room in fire.  Please watch the following video to see how fast a disaster can happen:
Topics: News, Public Safety | 45 Comments »
By sufelle | December 5, 2012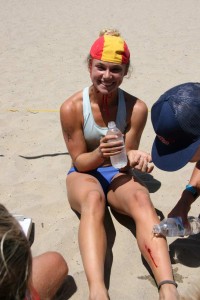 Long Beach Junior Lifeguard of the Year, Hannah Levy was chosen as this year's California Surf Lifesaving Junior Lifeguard of the Year. Her career 4.0+ GPA and multiple honors and awards, including "Principal's Merit Award" and "Excellence in Physical Education Award", are just the tip of the iceberg in her achievements. Hannah and her Wilson High dance partner received the 2012 "Best Choreographers of the Year Award" for their depiction of the battle against cancer in dance. She is also part of a Wilson freshman welcoming club called Link Crew. Hannah's numerous extra-curricular activities include Karate, where, at her studio, she was the youngest female to receive an adult black belt at the age of 11. She has participated in swim-a-thons, half marathons and Relay for Life eves supporting such worthy causes as the American Cancer Society. Levy quickly excelled to varsity as a rower with Long Beach Jr. Crew, where she received the "Most Inspirational Award" in 2011, helping her team win both the San Diego Crew Classic and Southwest Jr. Regionals, qualifying them for Nationals, where they placed 5th. She has also been an integral part of the Long Beach Junior Lifeguard program for the past six summers, competing in the annual Stud Ironman where she reduced her initial time of 3:04:00 by half to 1:34:00. Hannah initiated a group of her fellow junior guards to compete in the 2012 Mega Colossus, (an 8.5 mile run interspersed with 4000 yards of swimming), encouraging them along by having them stick together and finish as a group. Her character is exemplified in such moments as jumping into a run-swim-run event during a meet, just so a Seal Beach JG wouldn't be the only female competitor. Or during round 4 of Flags at Regionals when she was injured by one of the other competitors and yet walked out of the flag pit with a smile on her face. Levy's contributions have not only impacted the Long Beach Junior Lifeguard Program, but the the Fire Department as well.  After three hours of JGs, Hannah has another three hours of dance and rowing everyday. One of the Department's Rescue Boat Stations shares the building with the Rowing Center and every Marine Safety member has commented on "how friendly the blonde girl with the big smile is". Her commitment also extends to her community, where her quick thinking along with the basic first aid skills she acquired through junior guards enabled her to assist her elderly neighbor who had fallen and broken her hip. Motivation, dedication, athleticism and leadership are just a few of the qualities that typify Hannah Levy, earning her California Surf Lifesaving Junior Lifeguard of the Year. Her parents commented, "We are so thrilled for Hannah and obviously very proud as well.  She has the heart of a lion and the soul of an angel."
Topics: News | 197 Comments »
By jiarviz | November 26, 2012
This morning at 11:20 a.m. a kitchen fire caused heavy damage to an upstairs unit of a 4-unit apartment building on the 1300 block of Stanley Ave. Two persons were inside at the time of the fire but both were able to escape unharmed. Three adults were displaced and will be assisted by the Red Cross. Arson Investigators are examining the scene to determine the cause.
Topics: Incidents, News | 93 Comments »
By Admin | November 14, 2012
Topics: Incidents, Video | 84 Comments »
« Previous Entries
Next Entries »