By jiarviz | February 1, 2013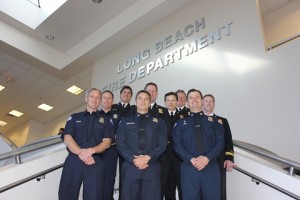 On Friday, February 1, 2013 the Long Beach Fire Department honored members of the Department for their recent promotion to the ranks of Marine Safety Officer, Rescue Boat Operator, and Battalion Chief.  Members of the community were also honored for their contributions to the Department and to the community.  Individuals listed below who are being promoted will fill positions vacated by retirements and other promotions.  Below is a list of honorees.
Darrin Curry - Battalion Chief
James Pagnanelli - Fire Boat Operator
Eric Yauchzee  - Fire Boat Operator
Nick Kraus - Fire Boat Operator
Cameron Abel - Rescue Boat Operator
Trevor Wawrzynski - Marine Safety Officer
Juanita Arias  - Secretary of Fire Prevention
Kim O'Neill - Secretary of Support Services
Leticia Garcia - Clerk Typist III within Fire Prevention
Robert Cherney - Community Services Award
Bill and Nancy Nash - Community Services Award
Tracy Manzer, Press Telegram - Letter of Appreciation
Mike Murchison, Clancy Foundation - Letter of Appreciation

Topics: Events, News | Comments Off
By Matthew Dobberpuhl | January 24, 2013
At approximately 9am this morning, Long Beach Fire units responded to a garage fire in the 3800 block of California Ave. Firefighters were able to quickly extinguish the fire and ensure that it was contained to the detached garage with no involvement to the main house. Arson investigators were called to the scene to investigate the cause.

Topics: Public Safety | 1 Comment »
By Will Nash | January 24, 2013

The Long Beach Fire Department's Marine Safety Division will once again sponsor the Junior Lifeguard Program this summer. The 2013 Program will be held June 24 to August 2.   Each of the morning and afternoon sessions will be held Monday through Friday at Junior Lifeguard Headquarters, located on the beach at 55th Place and Ocean Blvd. Students must be 9 years of age as of July 1, 2013.
The Junior Lifeguard Program offers students 9 to 17 years of age the opportunity to receive instruction in Lifeguard rescue technique, emergency medical first-aid, ocean sports activity, physical conditioning, marine ecology, and public service. Field trips and competitions at other area beaches will highlight the six (6) week course. All aspects of beach activity will be explored from beach running to skin diving. The program is presented in a manner that will enable each student to participate to the best of his or her abilities while acquiring new skills and abilities.
 For full details on this program and dates of Try Outs, please visit:  http://www.longbeach.gov/fire/special_programs/junior_lifeguards.asp

Topics: Public Safety | No Comments »
By Will Nash | January 22, 2013
Today at approximately 11:15, Long Beach Fire Department responded to a house fire in the 400 block of Harding Street in north Long Beach.  On arrival, crews found a heavy smoke with fire coming from the kitchen area.  Residents were not home at the time, however two small dogs were inside when the fire broke out.  Unfortunately, paramedics were successful in reviving only one.
 Damage from smoke and fire was enough to displaced family of four until repairs can be made.  Investigators are examining the scene to determine the cause.

Topics: Incidents | No Comments »
By Will Nash | January 21, 2013
On Saturday, January 19, 2013, at approximately 8:42 p.m., the LBFD responded to Del Amo Boulevard just east of Orange Avenue regarding a single vehicle injury traffic collision that resulted in the death of a male adult.
Apon arrival, units found a overturned white 2002 Chevy Suburban that had contained six occupants. Four of the occupants had been ejected from the vehicle, with two trapped inside that needed extrication. All six occupants, males in their 20′s, were transported to local hospitals with varyiing injuries. One of the passengers was pronounced deceased at the hospital as a result of injuries sustained from the collision. Two of the passengers were treated and released from the hospital. The driver and the other two passengers were admitted and listed in critical but stable condition.
Investigators believe the driver was traveling eastbound on Del Amo Boulevard at a high rate of speed when he lost control of the vehicle, causing him to strike the center divider and flip the vehicle several times before coming to rest in the eastbound lanes of Del Amo Boulevard.
Prior to striking the center divider, witnesses observed the SUV possibly racing a dark colored vehicle eastbound on Del Amo Boulevard.
Anyone with information regarding this incident is asked to contact Long Beach Police Accident Investigation Detective Brian Watt at (562) 570-7355. Anyone wishing to remain anonymous may call 1-800-222-TIPS (8477), or text TIPLA plus your tip to 274637 (CRIMES), or visit www.LACrimeStoppers.org.

Topics: Public Safety | No Comments »
« Previous Entries
Next Entries »