By Admin | September 12, 2021
A 2nd Alarm Brush Fire in the Angeles National Forest 7:07 PM · Sep 11, 2021.
Topics: Public Safety | No Comments »
By Admin | July 17, 2020
Long Beach, CA— A total of $20,000 is being offered as a reward for information leading to the identification and arrest of those responsible for igniting multiple fires that destroyed several businesses in Long Beach. The City of Long Beach is contributing $10,000 and the Bureau of Alcohol, Tobacco, Firearms and Explosives (ATF) contributed the initial $10,000.

"We are committed to helping businesses that were vandalized to rebuild," said Mayor Robert Garcia. "As a City, we will also continue to work on identifying the people responsible for this so that we can take action, and we need the community's help."

The City's $10,000 expenditure for the reward was unanimously approved by City Council on July 7, 2020.

One of the fires started around 10 p.m. on May 31, 2020, at the Men's Suit Outlet, located at 655 Pine Ave., during a period of civil unrest. Video evidence shows multiple suspects approaching the business and throwing two incendiary devices (commonly referred to as Molotov cocktails) inside the business. The ensuing fire destroyed the building and the five businesses operating out of the building. The loss due to this fire alone is estimated at $5,176,200.

Video evidence shows the same unidentified suspects throwing incendiary devices and vandalizing Pacific Travel Insurance and Income Tax located at 951 Pine Avenue, as well as Burger King, located at 127 W. 4th St.

This investigation is being conducted jointly by the Long Beach Fire Department and ATF Los Angeles Field Division. Video footage of the suspects can be found online. Anyone with information on the unidentified suspects or information on the fires listed above is encouraged to contact Long Beach Fire Department Arson Hotline at (562) 570-2582.

Topics: Public Safety | 1 Comment »
By Admin | May 10, 2017
LONG BEACH, Calif. (KABC) —
Ten great white sharks were spotted near the coast of Long Beach on Wednesday.
The sharks were spotted swimming within 50 yards of the beach.
Long Beach Lifeguards said 24-hour advisory notifications were posted along the beach, but the beach would remain open.
A shark advisory is issued when "there is a confirmed sighting of a non-aggressive shark."
Crews in boats were seen attempting to scare off the sharks, but the effort appeared to have no impact as the sharks lingered in the area.
Topics: Public Safety | No Comments »
By Admin | September 3, 2016
Topics: Public Safety | No Comments »
By Admin | May 20, 2016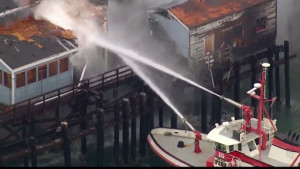 Rich Cowgil Photos
Topics: Public Safety | No Comments »
« Previous Entries