« Boy,2,Rescued From Apartment Fire-Video | Home | Badge Ceremony November 2010 »
By Steve Yamamoto | December 7, 2010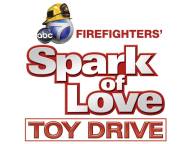 The Long Beach Fire Department is currently accepting toys for this year's "Spark of Love" Toy Drive.  Toys may be dropped off any Long Beach Fire Station, City Hall, CVS Pharmacies, and select business throughout the city.
The Spark of Love provides toys to needy children who would otherwise go without a gift this holiday season. Spark of Love works in concert with local Fire Departments in the Southern California area to fulfill Holiday dreams of needy children. Here in Long Beach, Counselors of the Long Beach Unified School District identify recipients in advance.  Local Fire Station crews prior to Christmas, distribute the toys to the selected families. The hands-on interaction made possible by Spark of Love provides a positive role model for children, builds goodwill within our community, and allows Firefighters the opportunity to reinforce important life safety practices during the holiday season. 
Toys, games, books, school supplies, and even clothes are accepted.  Items must be new and unwrapped.  Toys for all ages are welcomed and items for teens are also needed.  Your donation is greatly appreciated and goes a long way in helping make this holiday season special for those in need.  Thanks for your support. Have a safe and joyful holiday season. 
For more information, please contact the LBFD Community Services Division at (562) 570-2519

Topics: Events | No Comments »
Comments are closed.