« SUSPECT(S) SOUGHT IN NUMEROUS ARSON FIRES IN CENTRAL LONG BEACH | Home | LBFD Highlight Video »
By Steve Yamamoto | December 17, 2011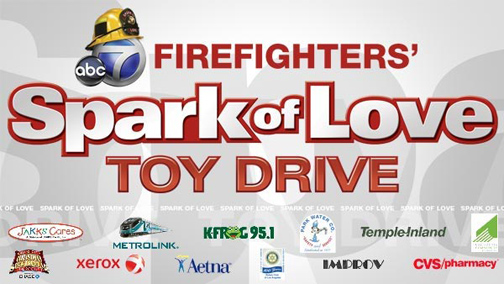 Once again, the Long Beach Fire Department (LBFD) kicks off the Spark of Love Toy Drive.  Through the combined generosity of businesses and residents, each year the Spark of Love program provides gifts to needy kids throughout Long Beach.  Spark of Love works in conjunction with several other charitable organizations to both giving and receiving toys and donations.  Each year we provide toys for about 400 families and over 20 different community groups.  This builds goodwill within our community and provides kids with positive role models.
Teachers in the Long Beach Unified School District identify special need families throughout the year.  Firefighters also see hardships in the areas they serve and can recommend families.  Toys are collected throughout the month at various city events, parties, local businesses, and from residents who drop the toys off at our fire stations.  The program runs as a result of numerous volunteer hours put forth by our LBFD Firefighters, Lifeguards, Ambassadors, and Honoraries.  Deliveries are made to families and community organizations throughout the month of December, culminating in our CODE 3 Delivery Day where we make rounds all throughout the city with Santa in his Fire Engine Sleigh.
Donations should be new, unwrapped, toys, sports equipment, school supplies, or gift cards.  Items for teens are also needed and these items can be dropped off at any local area fire station, CVS Pharmacies, City Hall, or select local area business.  Spark of Love also accepts monetary donations.  Checks should be made out to Friends of Long Beach Firefighters, Spark of Love.  Your donation is greatly appreciated and goes a long way in helping to make this holiday season special for those in need.  Thank you for your support.  Have a safe and joyful holiday season.
For more information, please contact the LBFD Community Services Division at 562-570-2519.  All donations are tax deductible.  Federal Tax ID #931223990

Topics: Events, News | 45 Comments »
Comments are closed.