« Bixby Knolls Area Garage Fire | Home | LBFD Haz Mat Incident »
By jiarviz | February 1, 2013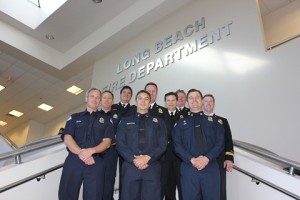 On Friday, February 1, 2013 the Long Beach Fire Department honored members of the Department for their recent promotion to the ranks of Marine Safety Officer, Rescue Boat Operator, and Battalion Chief.  Members of the community were also honored for their contributions to the Department and to the community.  Individuals listed below who are being promoted will fill positions vacated by retirements and other promotions.  Below is a list of honorees.
Darrin Curry – Battalion Chief
James Pagnanelli – Fire Boat Operator
Eric Yauchzee  – Fire Boat Operator
Nick Kraus – Fire Boat Operator
Cameron Abel – Rescue Boat Operator
Trevor Wawrzynski – Marine Safety Officer
Juanita Arias  – Secretary of Fire Prevention
Kim O'Neill – Secretary of Support Services
Leticia Garcia – Clerk Typist III within Fire Prevention
Robert Cherney – Community Services Award
Bill and Nancy Nash – Community Services Award
Tracy Manzer, Press Telegram – Letter of Appreciation
Mike Murchison, Clancy Foundation – Letter of Appreciation

Topics: Events, News | Comments Off on LBFD Badge Ceremony
Comments are closed.