« Long Beach Fire Department sends units to assist with the Glendora "Colby" Fire | Home | Mobile Home Fire »
By Will Nash | January 16, 2014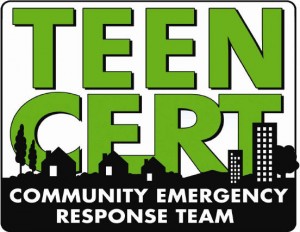 On Saturday, January 18th, the Long Beach Fire Department and Long Beach Poly High School are proud to graduate the City's first Teen C.E.R.T. Class. The event will be held at the Long Beach Fire Regional Training Center, located at 2249 Argonne Ave, near Stearns Park. A simulated disaster exercise is scheduled to begin at 1:00pm and will showcase the newly learned emergency skills of the students. This exercise should conclude at approximately 3:00pm with a graduation ceremony to follow, concluding at approximately 4:00pm.
The 36 graduates have put a tremendous amount of time and energy into this after school elective program. This is the first time that this FEMA sanctioned program has been delivered in Long Beach.
C.E.R.T. stands for Community Emergency Response Teams. With a focus on disaster preparedness, the training is designed for community members. In the event of a natural disaster, Police, Fire, and Medical Services will be OVERWHELMED. The public may be on it's own for a few hours, up to several days. CERT training is designed to teach the public how to care for themselves and others until professional help arrives.
Topics: Public Safety | Comments Off on Long Beach Fire Department and Poly High School to graduate first Teen CERT Class
Comments are closed.