« Mobile Home Fire | Home | Argonne House Fire »
By Will Nash | January 23, 2014
After years of planning and development, the Long Beach Fire Department has recently acquired a new addition to its fleet of emergency service vehicles. This government grant funded rig is designated as "Foam 12". Its primary function is to respond to:
Large fuel spills on streets, highways, or airport grounds
Catastrophic leaks from the city's myriad of underground gas and oil pipelines
Shipboard fuel fires
Large "Tank Farm" refineries fires
Large trash dump fires
An extensive amount of fuel and hazardous cargo travels throughout Long Beach daily on its freeways, railways, and within the port area. Because of this, Foam 12 is critical to public safety. It replaces a much older, lower capacity, antiquated unit that was put out of service years ago.
There is no other unit like this in the southern California area, making it a regional asset. With Foam 12 in place, the Long Beach Fire Department will be adequately prepared to respond to these low frequency, high risk, and potentially devastating types of calls.
Foam 12 carries the following extinguishing agents:
1320 gallons of class B foam
500 pound dry chemical, Purple K system
Hardware includes:
Built on a 2013 Freight liner crew cab chassis
Twin 1500 gpm (gallon per minute) monitor nozzles
Twin 200′ hand lines with foam nozzles
High expansions foam generating fan
Twin 150′ hose reels with dual agent nozzles, capable of flowing both foam and dry chemical extinguishing agent
No on-board pump or water tank is built in. Thus being, Foam 12 will be dispatched on calls with an accompanying Fire Engine. The engine is needed to plug into a fire hydrant to supply water and a method of propulsion for the foam.
Fire Chief Mike DuRee said, "This new grant funded asset will give the Long Beach Fire Department the ability to respond to complex petroleum based fires in a way that we have not seen before. The need to be ready, on a moments notice, is the hallmark of the Long Beach Fire Department and this new tool will help our Firefighters continue to respond to the needs of our community in a world class way."
The Long Beach Fire Department is committed to protecting lives, property, and providing for a safer community. The addition of Foam 12 will certainly assist in that mission.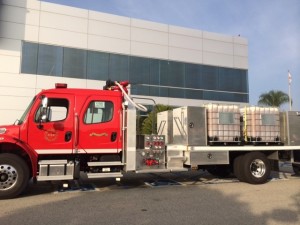 Topics: Public Safety | 2 Comments »
2 Responses to "Long Beach Fire Department acquires a new rig and increased capabilities with "Foam 12""
Alert_Squirrel Says:
January 23rd, 2014 at 5:13 pm

RT @firechannel: : After years of planning and development, the Long Beach Fire Department has recently acquired a ne… http://t.co/tyzFX7…

ChantallHurtado Says:
January 23rd, 2014 at 5:40 pm

RT @firechannel: : After years of planning and development, the Long Beach Fire Department has recently acquired a ne… http://t.co/tyzFX7…