« East 51st Street Garage Fire | Home | LBFD Station 12 Grand Opening »
By jiarviz | October 8, 2013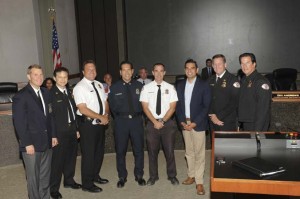 On Tuesday, October 1, 2013 at the Long Beach City Council Meeting two Long Beach Fire Department Employees recieved Proclamations.
The 2012 Employee of the Year is Jeremy Berryman
(center right).  Jeremy began his career with the Long Beach Fire Department in November 2001 and has been a dedicated employee for the past 12 years.  He has held the positions of Plans Reviewer, Code Enforcement Inspector, and was recently promoted to Fire Plan Checker II.  In 2007 Jeremy became the first full time Fire Plan Checker/Inspector in the Port of Long Beach. Jeremy has proven to be a valuable asset to the foundational growth of the Certified Unified Program Agencies (CUPA) Tanks Section of the Fire Prevention Bureau.  He has earned and maintains an International Code Council Certification as an Underground Storage Tank Inspector as well as a Hazwopper certification.  He continually offers assistance within the CUPA/Tanks Section when extra coverage is required. Jeremy is a team player and is always ready for new challenges.  His work ethic and attitude personify what it means to be a part of the Long Beach Fire Department.  No matter how full the schedule or workload is, he constantly displays a pleasing demeanor and attitude.  This has been evident in the multiple letters of appreciation and commendation he has received over the years.
The 2012 Firefighter of the Year is Paul Rodriguez
(center left).  Paul joined the Long Beach Fire Department in 2001.  He is currently a Firefighter Paramedic assigned to Rescue 9.  Paul served as a Public Information Officer with the Community Services Division for two years where he played an integral role in the further development and enhancement of our Community Emergency Response Team (CERT) program. Paul volunteered shortly after Hurricane Katrina for deployment as part of the Federal Emergency Management Agency's (FEMA) outreach efforts to support those devastated by the storm.  Paul spent multiple weeks walking through the debris fields comforting those that lost everything and providing assistance as families started the recovery process. Paul served six years as a Director for the Long Beach Firefighters Association, Local 372 where he provided valuable leadership.  He played a pivotal role as one of the primary event facilitators during two of the Fire Department's Memorial Services.  Paul is committed to the motto of the Long Beach Fire Department, which is, "more than fighting fires.
Topics: News | Comments Off on LBFD Proclamations
Comments are closed.