By Matthew Dobberpuhl | January 31, 2014
Long Beach Fire Department units responded to reports of a residential structure fire on the 6800 block of Coachella Ave at 12:52pm today. First arriving units discovered a fire on the second floor of an unoccupied, two story single family dwelling. The fire had extended into the attic which was well involved. An aggressive interior fire attack combined with ventilation operations conducted by Firefighters operating on the roof enabled LBFD resources to knock down the fire in less than 10 minutes.
No injuries were reported. The cause of the fire is under investigation.
No further information is available at this time.
Topics: Public Safety | Comments Off on Coachella Ave House Fire
By Matthew Dobberpuhl | January 31, 2014
Long Beach Fire Department resources responded to a structure fire on the 2200 block of Argonne Ave at 2am this morning. First arriving units reported fire showing from the rear of a residential duplex. The fire was contained to the involved unit which sustained heavy damage. No injuries were reported.  The cause is under investigation. No further information is available at this time.
Topics: Public Safety | Comments Off on Argonne House Fire
By Will Nash | January 23, 2014
After years of planning and development, the Long Beach Fire Department has recently acquired a new addition to its fleet of emergency service vehicles. This government grant funded rig is designated as "Foam 12". Its primary function is to respond to:
Large fuel spills on streets, highways, or airport grounds
Catastrophic leaks from the city's myriad of underground gas and oil pipelines
Shipboard fuel fires
Large "Tank Farm" refineries fires
Large trash dump fires
An extensive amount of fuel and hazardous cargo travels throughout Long Beach daily on its freeways, railways, and within the port area. Because of this, Foam 12 is critical to public safety. It replaces a much older, lower capacity, antiquated unit that was put out of service years ago.
There is no other unit like this in the southern California area, making it a regional asset. With Foam 12 in place, the Long Beach Fire Department will be adequately prepared to respond to these low frequency, high risk, and potentially devastating types of calls.
Foam 12 carries the following extinguishing agents:
1320 gallons of class B foam
500 pound dry chemical, Purple K system
Hardware includes:
Built on a 2013 Freight liner crew cab chassis
Twin 1500 gpm (gallon per minute) monitor nozzles
Twin 200' hand lines with foam nozzles
High expansions foam generating fan
Twin 150' hose reels with dual agent nozzles, capable of flowing both foam and dry chemical extinguishing agent
No on-board pump or water tank is built in. Thus being, Foam 12 will be dispatched on calls with an accompanying Fire Engine. The engine is needed to plug into a fire hydrant to supply water and a method of propulsion for the foam.
Fire Chief Mike DuRee said, "This new grant funded asset will give the Long Beach Fire Department the ability to respond to complex petroleum based fires in a way that we have not seen before. The need to be ready, on a moments notice, is the hallmark of the Long Beach Fire Department and this new tool will help our Firefighters continue to respond to the needs of our community in a world class way."
The Long Beach Fire Department is committed to protecting lives, property, and providing for a safer community. The addition of Foam 12 will certainly assist in that mission.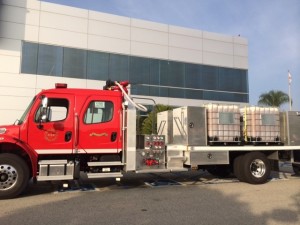 Topics: Public Safety | 2 Comments »
By jiarviz | January 21, 2014
On Monday, January 20, 2014 at approximately 8:23 p.m. the Long Beach Fire Department responded to the Villa Park Mobile Estates in the 6400 block of Atlantic Avenue for a reported mobile home fire. The first arriving firefighters found a well-involved mobile home with heavy smoke and fire showing on all sides. Firefighters made an aggressive attack on the fire, due to reports of possible victims inside the mobile home. Other units arriving found all four occupants who were home at the time of the fire outside of the mobile home. An adult male and adult female sustained mild to moderate burns; they were both treated and transported to an area hospital by Long Beach Fire Paramedics in stable condition. The other two family members were able to escape with no injuries. Firefighters were able to keep the damage to the involved unit. The mobile home sustained heavy damage, witched displaced the family of five who lived there. The Red Cross was requested and responded to assist the family. The cause of the fire was a Christmas tree too close to an ignition source.
Topics: Incidents, News, Public Safety | Comments Off on Mobile Home Fire
By Will Nash | January 16, 2014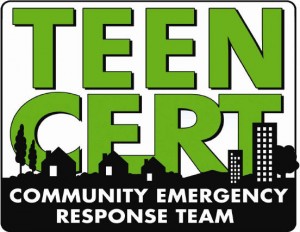 On Saturday, January 18th, the Long Beach Fire Department and Long Beach Poly High School are proud to graduate the City's first Teen C.E.R.T. Class. The event will be held at the Long Beach Fire Regional Training Center, located at 2249 Argonne Ave, near Stearns Park. A simulated disaster exercise is scheduled to begin at 1:00pm and will showcase the newly learned emergency skills of the students. This exercise should conclude at approximately 3:00pm with a graduation ceremony to follow, concluding at approximately 4:00pm.
The 36 graduates have put a tremendous amount of time and energy into this after school elective program. This is the first time that this FEMA sanctioned program has been delivered in Long Beach.
C.E.R.T. stands for Community Emergency Response Teams. With a focus on disaster preparedness, the training is designed for community members. In the event of a natural disaster, Police, Fire, and Medical Services will be OVERWHELMED. The public may be on it's own for a few hours, up to several days. CERT training is designed to teach the public how to care for themselves and others until professional help arrives.
Topics: Public Safety | Comments Off on Long Beach Fire Department and Poly High School to graduate first Teen CERT Class
« Previous Entries
Next Entries »