By jiarviz | January 21, 2014
On Monday, January 20, 2014 at approximately 8:23 p.m. the Long Beach Fire Department responded to the Villa Park Mobile Estates in the 6400 block of Atlantic Avenue for a reported mobile home fire. The first arriving firefighters found a well-involved mobile home with heavy smoke and fire showing on all sides. Firefighters made an aggressive attack on the fire, due to reports of possible victims inside the mobile home.
Other units arriving found all four occupants who were home at the time of the fire outside of the mobile home. An adult male and adult female sustained mild to moderate burns; they were both treated and transported to an area hospital by Long Beach Fire Paramedics in stable condition. The other two family members were able to escape with no injuries. Firefighters were able to keep the damage to the involved unit.
The mobile home sustained heavy damage, witched displaced the family of five who lived there. The Red Cross was requested and responded to assist the family. The cause of the fire was a Christmas tree too close to an ignition source.

Topics: Incidents, News, Public Safety | Comments Off on Mobile Home Fire
By Will Nash | January 16, 2014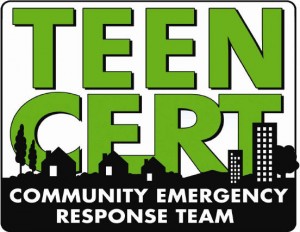 On Saturday, January 18th, the Long Beach Fire Department and Long Beach Poly High School are proud to graduate the City's first Teen C.E.R.T. Class. The event will be held at the Long Beach Fire Regional Training Center, located at 2249 Argonne Ave, near Stearns Park. A simulated disaster exercise is scheduled to begin at 1:00pm and will showcase the newly learned emergency skills of the students. This exercise should conclude at approximately 3:00pm with a graduation ceremony to follow, concluding at approximately 4:00pm.
The 36 graduates have put a tremendous amount of time and energy into this after school elective program. This is the first time that this FEMA sanctioned program has been delivered in Long Beach.
C.E.R.T. stands for Community Emergency Response Teams. With a focus on disaster preparedness, the training is designed for community members. In the event of a natural disaster, Police, Fire, and Medical Services will be OVERWHELMED. The public may be on it's own for a few hours, up to several days. CERT training is designed to teach the public how to care for themselves and others until professional help arrives.

Topics: Public Safety | Comments Off on Long Beach Fire Department and Poly High School to graduate first Teen CERT Class
By Will Nash | January 16, 2014
At 10:09 this morning, Long Beach Fire Department Units were dispatched to assist with the "Colby" wildland fire in Glendora. Commonly known as a "Strike Team", units from Long Beach included one Battalion Chief and five Engines, for a total of 21 personnel. An additional Long Beach Engine, of 4 personnel, was teamed up with the Downey Fire Department, to complete a "mixed" Strike Team. Crews arrived at the staging location shortly before noon.
When Long Beach Fire is requested outside city limits to assist in other areas, additional LBFD personnel are called in to "backfill" Long Beach fire stations. This ensures we maintain full staffing levels to promptly respond to emergencies within the city.
Glendora Police have reported arresting three men in connection with starting an early morning campfire that spread due to the high winds and dry conditions. They were booked for unlawfully causing a fire of a structure and are being held on $20,000 bail.
In addition, the South Coast Air Quality Management District has issued a smoke advisory today for portions of Los Angeles County. Unhealthful air quality is present due to smoke and ash from the fire. Currently, the Greater Long Beach area is listed as "Moderate". All individuals are urged to exercise caution and avoid unnecessary outdoor activities in any area directly impacted by smoke. This includes areas where residents can see or smell smoke.

Topics: Public Safety | 2 Comments »
By Will Nash | January 15, 2014
The Long Beach Fire Department Regional Training Center recently received certification from the California State Fire Training Office as a Rescue Systems 2 training site. RS2 is an advanced structural collapse course that not many fire department training centers can provide. With a number of specialized "on site" training props and collapsable buildings, the LBFD can now provide "in house" instruction to Long Beach Firefighters, as well to those in surrounding departments. Training topics could include: 
High and low angle rope rescue
Shoring and trench rescue
Confined space rescue
Searching after a structural collapse, including breaching, breaking, and heavy lifting
 The three major accomplishments recently completed are: 
The LBFD Urban Search and Rescue (USAR) program and Training Center has now reached "Level 1" status for USAR training capabilities, regionally
The Training Center received certification as a Rescue Systems 3 site. The LBFD is the first department in California to receive this "official" certification
The LBFD now has a second Type 1 Heavy Rescue unit available to respond in the city, as well as surrounding areas, during a major disaster
 This expansion of capability and service to the Long Beach Community comes as a result of years of leadership, planning, design, and construction by numerous firefighters in the LBFD USAR Program.

Topics: Public Safety | Comments Off on Long Beach Fire Training Center achieves new level of State certification
By Will Nash | January 6, 2014
Marines and Sailors of Patriots Hockey vs Long Beach Fire Department Firefighters
Both teams will feature players from the NHL Anaheim Ducks Alumni
When: Saturday, February 1st , 2014.
Your ticket includes the charity game Patriots VS LBFD at 1:00pm and NHL Anaheim Ducks vs the Dallas Stars at 7:00pm.
Where: Honda Center, Anaheim California
Tickets are $20 and a portion of all ticket sales will benefit the Warrior Foundation Freedom Station. Freedom Station is a rehabilitation center for wounded service members aiding them as they begin the transition from defenders of freedom to productive members of America's civilian work force.
Get your tickets online at http://www.anaheimducks.com/patriots
Parking is $15 per vehicle. Let the parking attendant know that you are with the Pre game skating group. Your parking pass will be stamped. Do not throw away your parking pass. Present this pass to the parking attendant and you will be allowed to re-enter the parking lot for the Ducks game later in the day.
All spectators should meet at the North East Entrance no later than 1:15PM, next to the Honda car on display and can watch the game from the Plaza level between sections 221 and 223. Following the game, all spectators will exit the Honda Center through the South West Entrance.

Topics: Events, Public Safety | Comments Off on Honda Center Charity Ice Hockey Game
« Previous Entries
Next Entries »